Easy holiday dessert that pairs great with our pumpkin chip ice cream!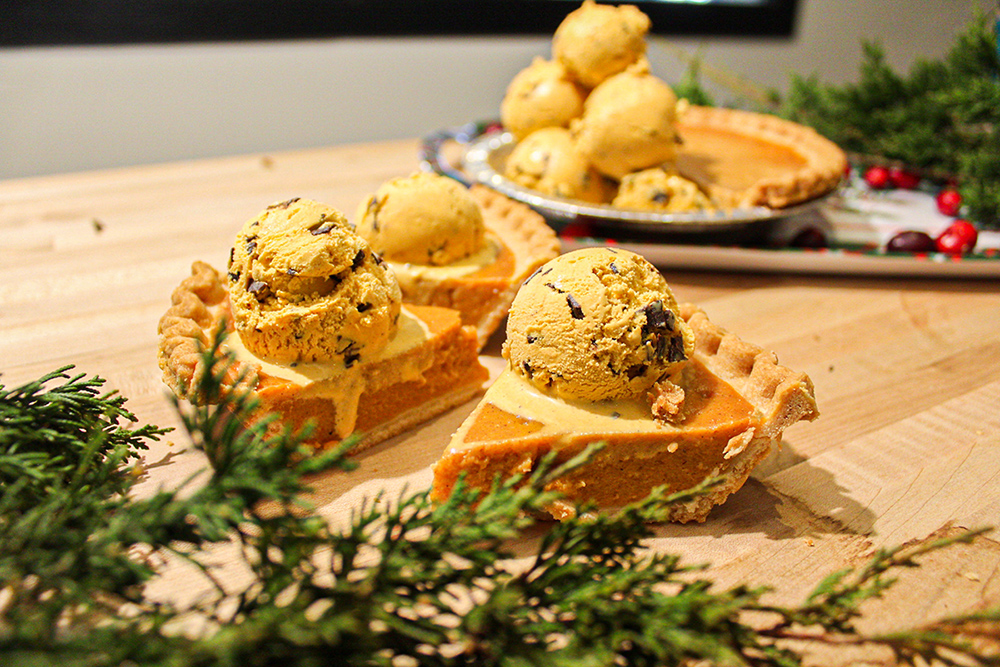 Pie Dough
315 grams all-purpose flour
2 tsp sugar
1 tsp salt
115 grams unsalted butter
1/2 cup ice water
95 grams vegetable shortening
Pumpkin Pie Filling
425 grams pumpkin puree
400 grams sweetened condensed milk
2 eggs
1 tsp vanilla extract
1 tsp cinnamon
1 tsp nutmeg
1 tsp clove
Step 1
For dough: Preheat oven to 400 degrees F. Whisk flour, sugar, and salt to combine.
Step 2
Place small cubes of butter and shortening into dry ingredients and combine till small pea sizes form.
Step 3
Add ice water 1/2 cup at a time (you may not need all of it).
Step 4
Let chill 1 hour for best results and roll over lightly floured surface.
Step 5
Bake fully for 20 minutes or until golden brown.
Step 6
Pie Filling: Turn oven down to 390 degrees
Step 7
Add pumpkin, sweetened condensed milk, extract, eggs, and spice in medium bowl and whisk until well combined and add to par baked pie crust.
Step 8
Let cool then decorate with extra pie dough decor, whipped cream or Del's Pumpkin Chip ice cream!